"Is anyone among you sick? Let him call for the elders of the church, and let them pray over him, anointing him with oil in the name of the Lord." James 5:14 ESV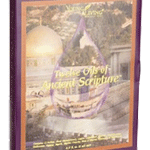 After being invited to an online FaceBook "Essential Oils and the Bible"  I was inspired to write this article on "The Twelve Oils of Ancient Scripture".   In the Bible there are over 200 verses referencing essential oils and if you add references to both the essential oils and the aromatic plants (essential oils are extracted from the plants) you can find over 600.
"And on the banks, on both sides of the river, there will grow all kinds of trees for food. Their leaves will not wither, nor their fruit fail, but they will bear fresh fruit every month, because the water for them flows from the sanctuary. Their fruit will be for food, and their leaves for healing." Ezekiel 47:12 ESV (emphasis is mine)
God is the greatest physician of all so why don't we take His Book, the Bible, and learn from God how to take care of our bodies?  I'm not saying "don't go to the doctor", I'm just saying we need to take a long look in the Bible about what God is teaching us on how to take care of ourselves and our families.
"through the middle of the street of the city; also, on either side of the river, the tree of life with its twelve kinds of fruit, yielding its fruit each month. The leaves of the tree were for the healing of the nations." Revelations 22:2 ESV (emphasis is mine)
Young Living's "Twelve Oils of Ancient Scripture Kit" contains the 12 most significant oils found in the Bible each in 5ml bottles:
To learn more about each of the individual oils be sure to click the link on the name of the oil to learn about it's uniqueness.
"22 The Lord said to Moses, 23 "Take the finest spices: of liquid myrrh 500 shekels, and of sweet-smelling cinnamon half as much, that is, 250, and 250 of aromatic cane, 24 and 500 of cassia, according to the shekel of the sanctuary, and a hin[a] of olive oil. 25 And you shall make of these a sacred anointing oil blended as by the perfumer; it shall be a holy anointing oil. 26 With it you shall anoint the tent of meeting and the ark of the testimony, 27 and the table and all its utensils, and the lampstand and its utensils, and the altar of incense, 28 and the altar of burnt offering with all its utensils and the basin and its stand. 29 You shall consecrate them, that they may be most holy. Whatever touches them will become holy. 30 You shall anoint Aaron and his sons, and consecrate them, that they may serve me as priests. 31 And you shall say to the people of Israel, 'This shall be my holy anointing oil throughout your generations." Exodus 30:22-31 ESV

"Then took Mary a pound of ointment of spikenard, very costly, and anointed the feet of Jesus, and wiped his feet with her hair: and the house was filled with the odour of the ointment." John 12:3 KJV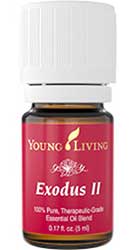 In Exodus God gives Moses instructions on how to make His "holy anointing oil" and n John the Bible tells us how Mary anointed the feet of Jesus with expensive oil.  Young Living took these versus to heart and blended the essential oils into Exodus II™.  This oil can be diffused, diluted 50:50 with a carrier oil and applied to the spine, ears, throat, neck, wrists, thymus and/or feet, and directly inhaled to help support a healthy immune system.  This blended essential oil uses Olive Oil as the carrier oil and is a combination of:
To learn more about each of the individual oils be sure to click the link on the name of the oil to learn about it's uniqueness.
Young Living's 3 Wise Men™ promotes feelings of reverence and spiritual awareness with a blend of therapeutic-grade essential oils formulated to open the subconscious.  This unique blend helps increase oxygen to the brain.  While reading the Bible and meditating on God's Word, this would be a good essential oil to put in the diffuser to help clear the mind.  This blended essential oil uses Almond Oil as the carrier oil and is a combination of:
Disclaimer:  I am an Independent Distributor of Young Living and the information on this website is not intended to diagnose, prescribe, treat or cure any disease, illness, or condition, and should not be used as a substitute for seeking professional medical care and advice. These statements have not been evaluated by the Food and Drug Administration. This information is intended for educational purposes only. The testimonials, research, and information within applies only to Young Living Essential Oils and I make no representations as to accuracy, completeness, timeliness, suitability, or validity of any information presented by individual authors and/or users on our pages and will not be liable for any errors, omissions, or delays in this information or any losses, injuries, or damages arising from its display or use. If you have a medical condition, a disease, or are using a prescription medication, it s recommended that you consult with a health professional (preferably one who has experience with essential oils), the prescribing physician, and a pharmacist about potential interactions between your medication(s) and the essential oil(s). The information I provide on this website is in no way meant to diagnose, treat, cure or prevent any disease, it is just meant to discuss what I have chosen to do or have done in my life and my family's lives to take control of our personal health.  Please contact me with any questions you may have!
PAID ENDORSEMENT DISCLOSURE: To be able to continue supporting the blogging activities on this website, we may receive monetary compensation or other types of remuneration for the endorsements or recommendations to any products or services from this site.  We are an affiliate of Amazon.com and links we provide out to Amazon.com are affiliate links and we will receive a very small commission on anything your purchase within 24 hours of clicking on one of our links.  We also use Google Adsense and will receive a very small commission just for you clicking on one of their ads (you do not have to purchase anything from the Google Ad, just click on it 🙂 )   Thanks for all your support.