"The Lord said to Moses, "Take sweet spices, stacte, and onycha, and galbanum, sweet spices with pure frankincense (of each shall there be an equal part)," Exodus 30:34 ESV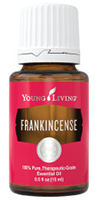 Frankincense (Boswellia carterl=ii) essential oil is one of Young Living's single oil blends and can be purchased in the "Twelve Oils of Ancient Scripture Kit" or as an individual essential oil.  It derives from the Middle East and for thousands of years used in religious ceremonies as an anointing oil.  Frankincense essential oil promotes healthy skin, aids in boosting the immunity system, and promotes scar healing.  It has an earthy, balsamic scent.
It's botanical family is Burseraceae and it's plant origin is Somalia/Yemen.  The method used for extraction is Steamed distilled from gum/resin.  It's ORAC value is 630 µTE/100g.
"Also known as "olibanum," the name frankincense is derived from the Medieval French word for "real incense." Frankincense is considered the "holy anointing oil" in the Middle East and has been used in religious ceremonies for thousands of years.  It was well known during the time of Christ for its anointing and healing powers and was one of the gifts given to Christ at His birth.  "Used to treat every conceivable ill known to man," frankincense was valued more than gold during ancient times, and only those with great wealth and abundance possessed it.  It is mentioned in one of the oldest known medical records, Ebers Papyrus (dating from 16th century BC), an ancient Egyptian list of 877 prescriptions and recipes." (Young 101)
It's uses are:
depression
cancer
respiratory
inflammation
immune-stimulating
muscle relaxation
It can be diffused, directly inhaled, dietary supplement, or for a topical application.
In the Bible, Frankincense oil was one of the principal spices of the holy anointing oil discussed in Exodus 30:34 and "frankincense" is referenced 21 times in the Bible:
Exodus 30:34
Leviticus 2:1
Leviticus 2:2
Leviticus 2:15
Leviticus 2:16
Leviticus 5:11
Leviticus 6:15
Leviticus 24:7
Numbers 5:15
Nehemiah 13:5
Nehemiah 13:9
Song of Solomon 3:6
Song of Solomon 4:6
Song of Solomon 4:14
Isaiah 43:23
Isaiah 60:6
Isaiah 66:3
Jeremiah 6:20
Jeremiah 17:26
Matthew 2:11
Revelation 18:13
Works Cited: Young, Gary. Essential Oils Desk Reference.6th ed. Lehi: Life Science Publishing, 2014. Print.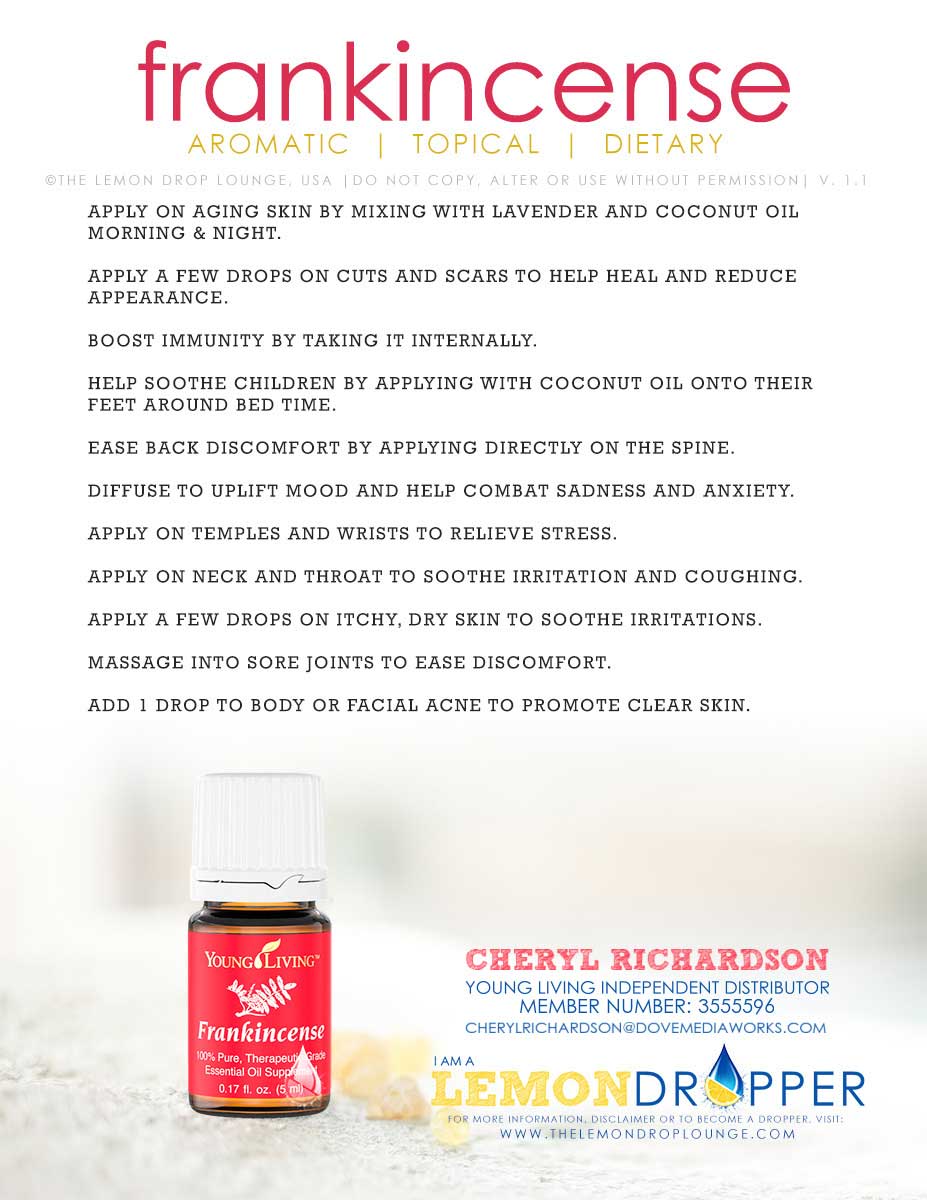 Disclaimer:  I am an Independent Distributor of Young Living and the information on this website is not intended to diagnose, prescribe, treat or cure any disease, illness, or condition, and should not be used as a substitute for seeking professional medical care and advice. These statements have not been evaluated by the Food and Drug Administration. This information is intended for educational purposes only. The testimonials, research, and information within applies only to Young Living Essential Oils and I make no representations as to accuracy, completeness, timeliness, suitability, or validity of any information presented by individual authors and/or users on our pages and will not be liable for any errors, omissions, or delays in this information or any losses, injuries, or damages arising from its display or use. If you have a medical condition, a disease, or are using a prescription medication, it s recommended that you consult with a health professional (preferably one who has experience with essential oils), the prescribing physician, and a pharmacist about potential interactions between your medication(s) and the essential oil(s). The information I provide on this website is in no way meant to diagnose, treat, cure or prevent any disease, it is just meant to discuss what I have chosen to do or have done in my life and my family's lives to take control of our personal health.  Please contact me with any questions you may have!
PAID ENDORSEMENT DISCLOSURE: To be able to continue supporting the blogging activities on this website, we may receive monetary compensation or other types of remuneration for the endorsements or recommendations to any products or services from this site.  We are an affiliate of Amazon.com and links we provide out to Amazon.com are affiliate links and we will receive a very small commission on anything your purchase within 24 hours of clicking on one of our links.  We also use Google Adsense and will receive a very small commission just for you clicking on one of their ads (you do not have to purchase anything from the Google Ad, just click on it 🙂 )   Thanks for all your support.