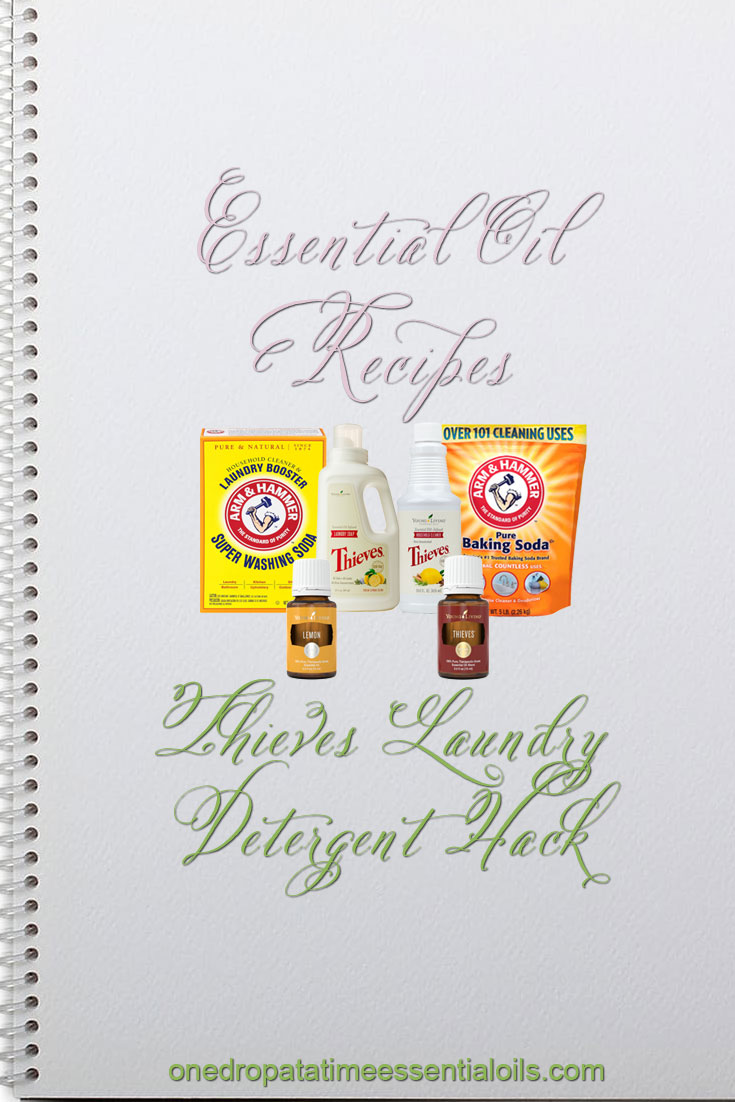 This DIY Thieves Laundry Detergent Hack is the best thing I've done.  It ends up costing around $4.00/gallon to make.  After reading an article on the effects of cleaning products on the lungs of women I decided to find some way to make my Thieves Laundry Detergent last longer.  The article discussed how after 20 years the women who used cleaning products regularly wer found to have the same decline in the function of their lungs as women who smoked 20 cigarettes per day.  That's one of the reasons I love my Young Living cleaning products because they are natural.  
I don't know how many loads of laundry you do per day, but I have 6 people in my house!  I do anywhere from 3-4 loads per day and the cost of Washing Detergent was getting expensive.  I really love Young Living's Thieves Laundry Soap and their Thieves Household Cleaner. I love the fact that every ingredient in this recipe does not have any harsh chemicals and it costs a fraction of what I pay for laundry detergent in the stores.   
Thieves Laundry Detergent Hack – Cost Breakdown
Total Cost:
With optional essential oils added: $4.39/gallon
Without optional essential oils added: $3.63/gallon
When using 1/4 cup per load, this equals 5-6¢ per load.
NOTE:  For tough stains, or to boost the efficiency of the cleaning, I like to do one of two things:
Boosting the efficiency:  Double the amount of Thieves Household Cleaner above.
Tough stains:  Take Young Living's Dish Soap and squeeze a little on the stain.  Add two drops of Lemon Essential Oil to the spot.  Scrub the spot and let sit for 5-10 minutes before putting in the washer.
*Members of Young Living receive wholesale pricing.  However, you also have the option to buy retail.  If buying retail, the price of the Laundry Soap would increase to $2.43 and the cost of the household cleaner would increase to $2.06; increasing the price per gallon to $4.72 and the cost per load would be 7¢/load (without essential oils added).
Thieves Laundry Detergent Hack – Recipe
1/4 cup Washing Soda
1/4 cup Baking Soda
1/4 cup Thieves® Laundry Soap
1/8 cup Thieves® Household Cleaner
Hot Water:  I use distilled water (1 gallon) so I can avoid impurities that are naturally in tap water
4 Drops Thieves essential oil (optional):
4 Drops Lemon essential oil (optional):
Drink Dispenser – at least a one gallon dispenser (If you don't use a citric oil like lemon, you can use a plastic drink dispenser, but if you use any citric essential oils I recommend using a glass container since the citric oils will eventually eat through plastic.)
Glass container for mixing (I use a large glass measuring cup for this.)
Take the glass measuring cup and add 2 cups of distilled water.  Microwave for 30 seconds on high.  Add the 1/4 cup of Washing Soda.  Stir really good to dissolve the Washing Soda.  Once it's dissolved, add the 1/4 cup of Baking Soda and stir until it's dissolved.  Place your Drink Dispenser where you plan to keep it because it will be very heavy when we finish with this recipe.  Pour the mixture from the glass measuring cup into the Drink Dispenser.  Pour in the remainder of the distilled water into the Drink Dispenser.  Now, add 1/4 cup of Thieves Laundry Soap and the 1/8 cup (2 Tablespoons) of Thieves Household Cleaner.  Now, if you want to enhance the scent of the detergent add the essential oils (or your choice of essential oils) to the drink dispenser.  Now, gently stir to mix it up good.  If using an HE washer, use 1/4 cup per load of clothes.
NOTE:  After the laundry hack has settled, it might separate and settle at the bottom.  Just five the mixture a little stir before using it.