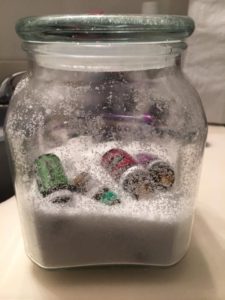 When I've used up the last drop of oil in my Essential Oil bottle, I have a "two-fold" use for them. 😊  I have a glass jar with a lid on it ½ full of "fresh" Epsom Salts.  I take the lid and orifice (reducer insert) off each bottle and place the lid, orifice and bottle into the jar of Epsom Salts, making sure each empty EO bottle is filled with Epsom Salts.   I then put the lid on the jar and carefully turn it upside down several times to make sure everything is saturated with Epsom Salts.
I let them sit there for 3-4 days to make sure the Epsom Salts has fully absorbed all the essential oils it can from each jar.  I then fill a glass bowl with some gentle castile soap (or you can use your own favorite hand soap or Thieves dish soap).  I remove all the lids, orifices, and empty essential oil bottles (be sure to shake all the Epsom Salts from them back into the same jar of Epsom Salts).  I let them soak for about 15 minutes in the warm soapy water.
I remove the label from each empty bottle by finding the seam and I start there.  I then use the soapy water to remove any residue from the empty bottle.  Occasionally, I have a stubborn one where I must add a few drops of Lemon essential oil to get all the residue off.  Rinse them completely and put the lid and orifice on a towel along with turning the empty bottle upside down and let them air dry for a day.
The essential oil enriched Epsom Salts is now ready for you to take a much needed "relaxing" tub bath!  Just add a handful of the Epsom Salts EO to your bath water.  😊
Things you can reuse the empty essential oil bottles for:
Take one of the empty bottles and refile the bottle halfway with a new bottle of your favorite Young Living essential oil. Put the orifice and top on the used bottle, label it and put it in your purse.  Now you always have one at home and one with you.
Take one of the empty bottles and make a diffuser bottle with your favorite essential oils you like to diffuse. Here's a link to some of my favorite diffuser recipes!  Have fun!  Be sure to label your bottle! 😊
Fill one of the empty bottles with your favorite essential oil blend mixed with your favorite carrier oil and put an AromaGlide roller fitment on it. NOTE:  The AromaGlide roller fitment will only work with the essential oils bottles that are stamped with "Sb" on the bottom of the bottle!  Be sure to label your bottle! 😊
Fill an empty bottle with 10-20 drops of your favorite essential oil. Put the orifice and top on the used bottle, label it and give it to a friend to share the joy of your essential oils.
Take an empty EO bottle, make a recipe for your child, put the AromaGlide roller fitment and top on the used bottle, label it and let your child enjoy having their own roller blend. NOTE:  Please be sure you child is old enough to have in their possession their own special EO roller bottle.  Use discretion here!
There are probably tons more ways you can reuse your empty essential oils bottles.  Let your imagination run wild!
Disclaimer:
 I am an Independent Distributor of
Young Living
and the information on this website is not intended to diagnose, prescribe, treat or cure any disease, illness, or condition, and should not be used as a substitute for seeking professional medical care and advice. These statements have not been evaluated by the Food and Drug Administration.
This information is intended for educational purposes only. The testimonials, research, and information within applies only to Young Living Essential Oils and I make no representations as to accuracy, completeness, timeliness, suitability, or validity of any information presented by individual authors and/or users on our pages and will not be liable for any errors, omissions, or delays in this information or any losses, injuries, or damages arising from its display or use.
If you have a medical condition, a disease, or are using a prescription medication, it s recommended that you consult with a health professional (preferably one who has experience with essential oils), the prescribing physician, and a pharmacist about potential interactions between your medication(s) and the essential oil(s).
The information I provide on this website is in no way meant to diagnose, treat, cure or prevent any disease, it is just meant to discuss what I have chosen to do or have done in my life and my family's lives to take control of our personal health.  Please contact me with any questions you may have!
PAID ENDORSEMENT DISCLOSURE: To be able to continue supporting the blogging activities on this website, we may receive monetary compensation or other types of remuneration for the endorsements or recommendations to any products or services from this site.  We are an affiliate of Amazon.com and links we provide out to Amazon.com are affiliate links and we will receive a very small commission on anything your purchase within 24 hours of clicking on one of our links.  We also use Google Adsense and will receive a very small commission just for you clicking on one of their ads (you do not have to purchase anything from the Google Ad, just click on it 🙂 )   Thanks for all your support.