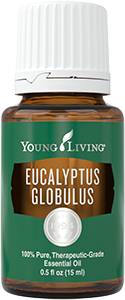 Young Living's Eucalyptus Globulus (Eucalyptus globulus) essential oil is used in many skin care products for its cleansing properties.  It has an earthy, fresh aroma.  It blends well with Cedarwood, Copaiba, Lavender and Pine essential oils.  Supports the respiratory system, relieves respiratory & sinus congestion, helps in reducing swelling, soothes sore muscles, purifies the environment, and helps to repel insects.
It's botanical family is Myrtaceae and it's plant origin is China.  It's ORAC value is 2,400 µTE/100g.
The extraction method for Eucalyptus Globulus essential oil is steam distilled form the leaves.
Eucalyptus Globulus essential oil's uses are; "For centuries, Australian Aborigines used the disinfecting leaves to cover wounds.  It is often used for the respiratory system.  Eucalyptus has also been investigated for its powerful insect repellent effects (Trigg. 1996).  Eucalyptus trees have been planted throughout parts of North Africa to successfully block the spread of malaria.  According to Jean Valnet, MD, a solution of 2 percent eucalyptus oil sprayed on the skin will kill 70 percent of ambient staph bacteria.  Some doctors still use solutions of eucalyptus oil in surgical dressings." (Young, 97)
Eucalyptus Globulus essential oil can be found in Young Living's:
Breathe Again Roll-on
Ortho Ease Massage Oil
Ortho Sport Massage Oil
Thieves Dentrarome Ultra Toothpaste
Applications for Eucalyptus Globulus essential oil:
Dilute 1:1 with a Carrier Oil and roll on the chakras and/or Vita Flex points
Inhale directly from the bottle
Diffuse
Take as a dietary supplement
Caution:  Possible skin sensitivity. If pregnant or under a doctor's care, consult your physician. Do not use near fire, flame, heat or sparks. Dilution recommended for both topical and internal use. Dilute before using on sensitive areas such as the face, neck, genital area, etc. Keep out of reach of children. Avoid using on infants and very small children.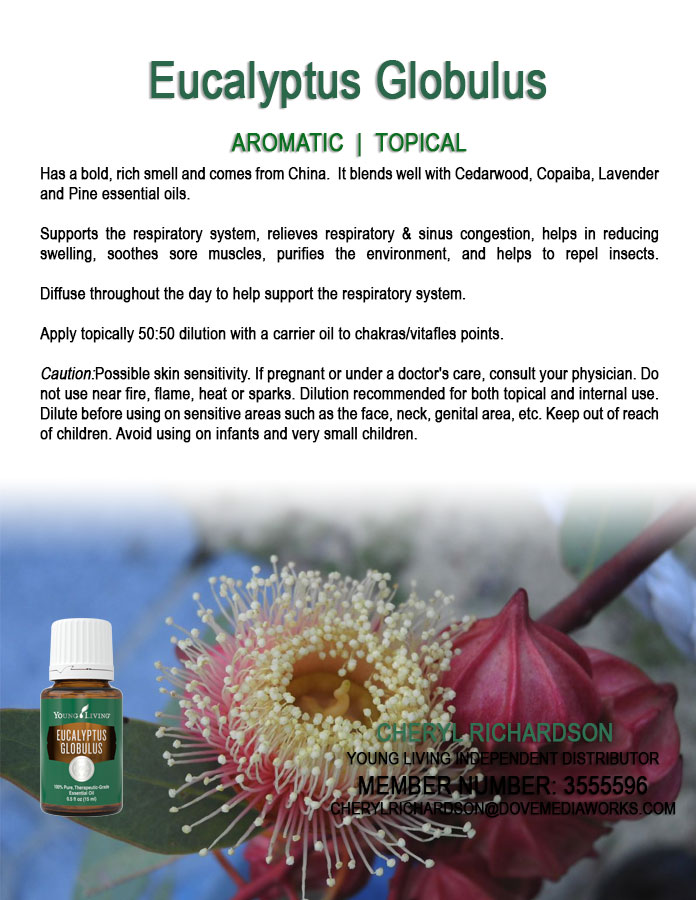 Works Cited: Young, Gary. Essential Oils Desk Reference.6th ed. Lehi: Life Science Publishing, 2014. Print.
Disclaimer:  I am an Independent Distributor of Young Living and the information on this website is not intended to diagnose, prescribe, treat or cure any disease, illness, or condition, and should not be used as a substitute for seeking professional medical care and advice. These statements have not been evaluated by the Food and Drug Administration. This information is intended for educational purposes only. The testimonials, research, and information within applies only to Young Living Essential Oils and I make no representations as to accuracy, completeness, timeliness, suitability, or validity of any information presented by individual authors and/or users on our pages and will not be liable for any errors, omissions, or delays in this information or any losses, injuries, or damages arising from its display or use. If you have a medical condition, a disease, or are using a prescription medication, it s recommended that you consult with a health professional (preferably one who has experience with essential oils), the prescribing physician, and a pharmacist about potential interactions between your medication(s) and the essential oil(s). The information I provide on this website is in no way meant to diagnose, treat, cure or prevent any disease, it is just meant to discuss what I have chosen to do or have done in my life and my family's lives to take control of our personal health.  Please contact me with any questions you may have!
PAID ENDORSEMENT DISCLOSURE: To be able to continue supporting the blogging activities on this website, we may receive monetary compensation or other types of remuneration for the endorsements or recommendations to any products or services from this site.  We are an affiliate of Amazon.com and links we provide out to Amazon.com are affiliate links and we will receive a very small commission on anything your purchase within 24 hours of clicking on one of our links.  We also use Google Adsense and will receive a very small commission just for you clicking on one of their ads (you do not have to purchase anything from the Google Ad, just click on it 🙂 )   Thanks for all your support.