Three of the most popular ways to use Essential Oils (EOs) are:
Inhalation
Topical
Ingestion
When using essential oils, using the "inhalation" method, you can simply inhale them directly from the individual bottles, from a bottle where you have mixed several different essential oils together, or even from an inhaler you have made.  You can also inhale them by using a diffuser which dispenses the oil(s) in a micro-fine vapor into the air in the room where the diffuser is located.  The Young Living diffusers do not heat the oils, they dispense a cool air vapor ensuring you get the full benefit of the oil(s).  There are times when  steam might be needed along with the oil(s) so carefully pour hot water into a bowl, add your oil(s) and cover you head and the bowl with a towel in a tent-like-fashion and inhale deeply.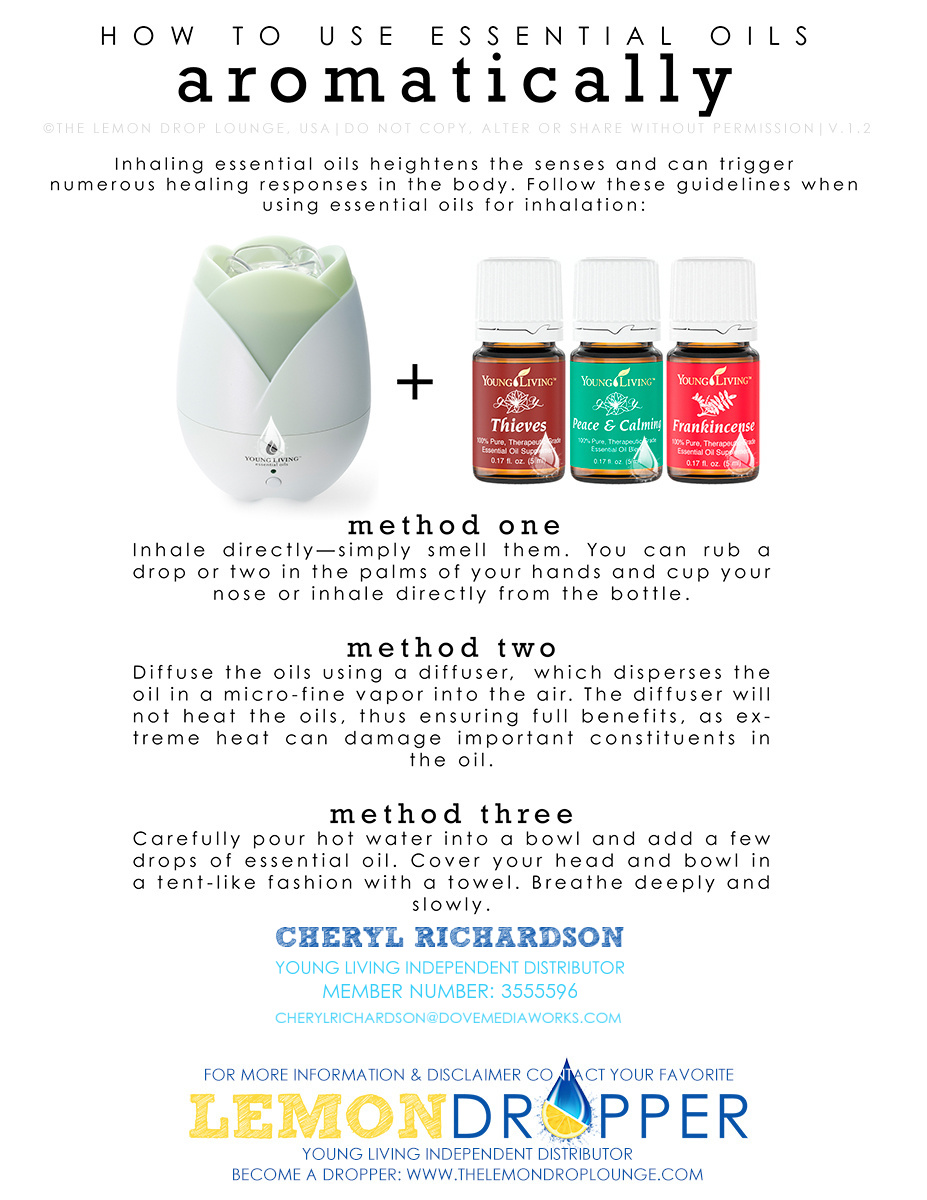 When using essential oils topically, apply them directly to the skin where indicated on the charts below.  Before applying the essential oil(s), if dilution is indicated in the Application Chart, dilute the oils with a Carrier Oil (CO).  Possible skin sensitivities can be avoided by dilution.  There are 10 key points of the body for application: abdomen, ankles, behind the ears, crown of the head, forehead, neck, over the vital organs, soles and top of feet, temples and upper back. To apply topically drop 2-3 drops of oil into the palm of the hand or directly on the desired application area and use a circular motion with your hand to massage the oil(s) into your skin and repeat if necessary.  Since essential oils are very potent some may cause a skin irritation.  If this happens, immediately apply more Carrier Oil (CO) to the area to dilute the essential oils. NOTE:  Please be sure to read the label on the individual essential oil bottle before using.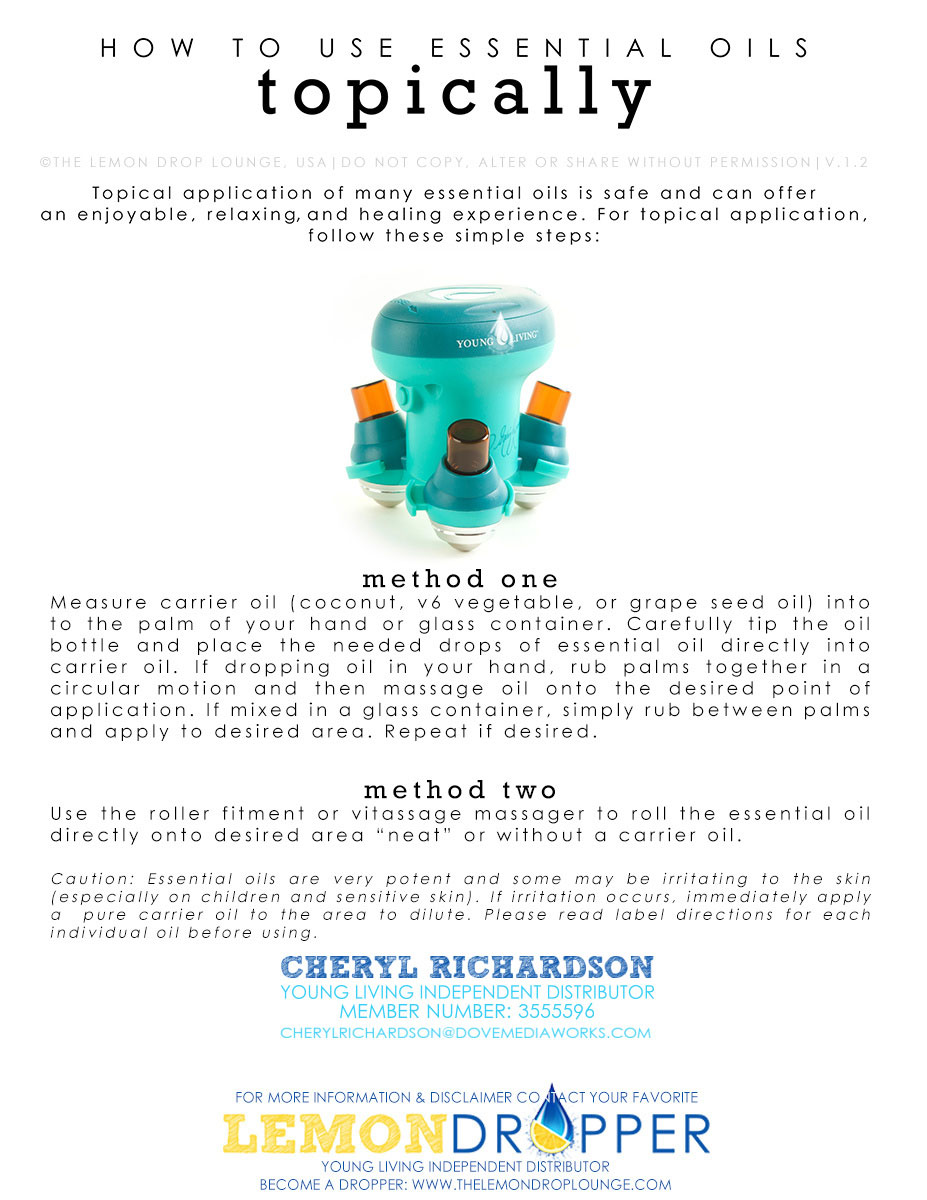 Some essentials oils, as shown by research, are more effective when ingested orally.  Be sure before ingesting essential oils they are pure, proven safe and labeled as dietary supplements.  How they are diluted and the dosage depends on three things concerning the individual ingesting them: age, size and health constitution.  To ensure safety, be sure to follow the recommended dosage on the individual essential oil bottle and seek the advice of a health professional before internal consumption.  Here are some ways essential oils can be consumed internally:
Add 1-2 drops of essential oil to:

a glass of water, rice milk, or hot tea
a piece of bread
your meals when cooking (the lemon oil is great when cooking fish)
into an empty clear vegetable capsule and swallow (you can add raw honey to fill up the capsule if you like)
onto a teaspoon of Blue Agave and swallow
Essential oils, labeled as dietary supplements, can also be dropped directly onto the tongue and swallowed, but extreme caution should be taken when using this method since many oils are very strong and should be tested first by pouring a single drop into a spoon and tasting a small portion first to determine the amount of oil to be used.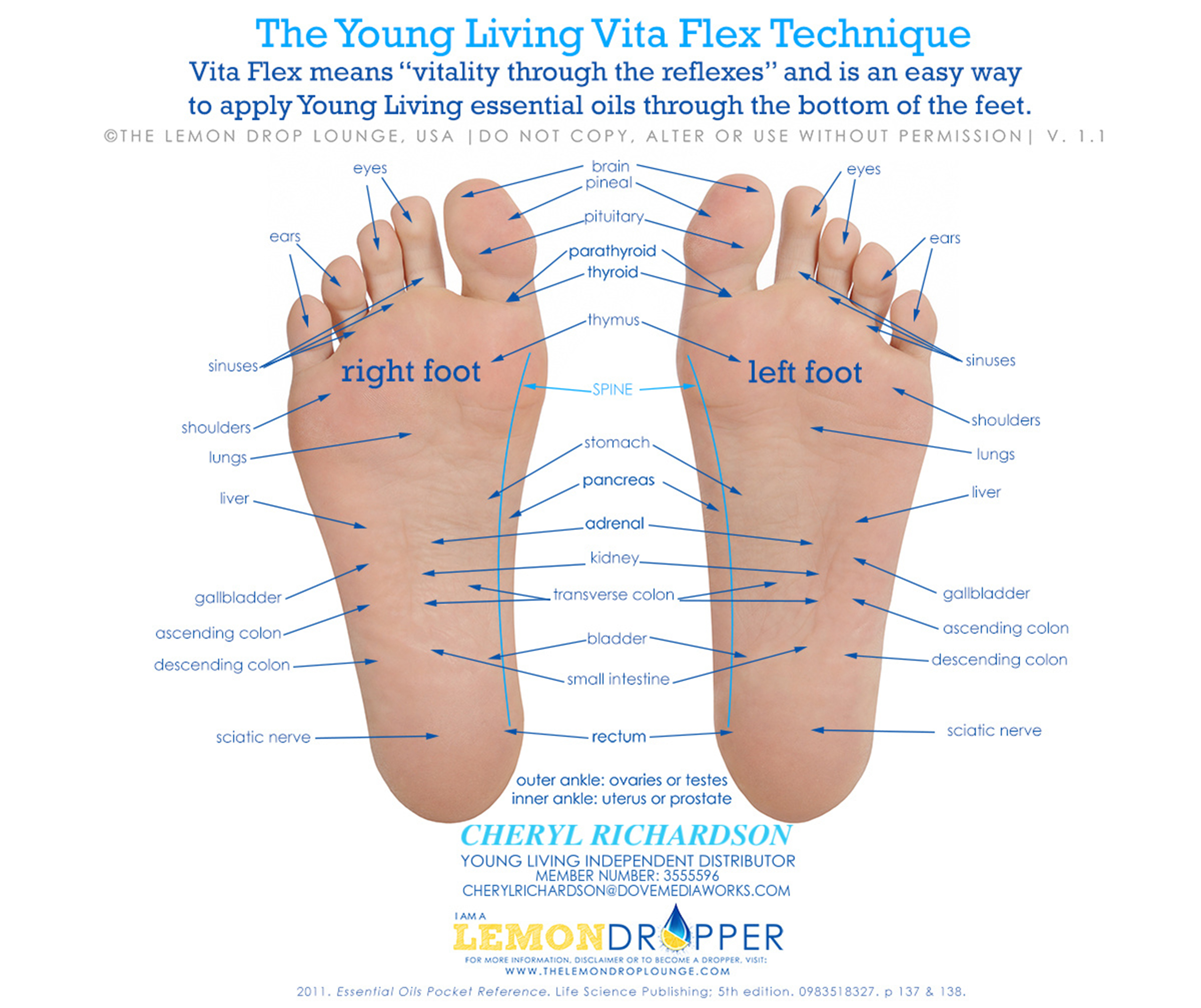 Disclaimer:  I am an Independent Distributor of Young Living and the information on this website is not intended to diagnose, prescribe, treat or cure any disease, illness, or condition, and should not be used as a substitute for seeking professional medical care and advice. These statements have not been evaluated by the Food and Drug Administration. This information is intended for educational purposes only. The testimonials, research, and information within applies only to Young Living Essential Oils and I make no representations as to accuracy, completeness, timeliness, suitability, or validity of any information presented by individual authors and/or users on our pages and will not be liable for any errors, omissions, or delays in this information or any losses, injuries, or damages arising from its display or use. If you have a medical condition, a disease, or are using a prescription medication, it s recommended that you consult with a health professional (preferably one who has experience with essential oils), the prescribing physician, and a pharmacist about potential interactions between your medication(s) and the essential oil(s). The information I provide on this website is in no way meant to diagnose, treat, cure or prevent any disease, it is just meant to discuss what I have chosen to do or have done in my life and my family's lives to take control of our personal health.  Please contact me with any questions you may have!
PAID ENDORSEMENT DISCLOSURE: To be able to continue supporting the blogging activities on this website, we may receive monetary compensation or other types of remuneration for the endorsements or recommendations to any products or services from this site.  We are an affiliate of Amazon.com and links we provide out to Amazon.com are affiliate links and we will receive a very small commission on anything your purchase within 24 hours of clicking on one of our links.  We also use Google Adsense and will receive a very small commission just for you clicking on one of their ads (you do not have to purchase anything from the Google Ad, just click on it 🙂 )   Thanks for all your support.