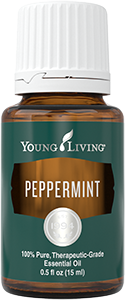 Young Living's Peppermint essential oil's (Mentha piperita) scent invigorates the senses and mind.  It inspires a sense of peace, calming and positivity.
The fragrant influences of Peppermint essential oil are: "Purifying and stimulating to the conscious mind.  Research indicates that peppermint aroma, inhaled during mental tasks, may help attention, performance, and focus (Barker, et al., 2003).  Peppermint may also be an effective appetite suppressant when inhaled (Hirsch and Gomez, 1995).  University of Kiel researchers found that peppermint lessened headache pain in a double-blind, placebo-controlled, cross-over study." (Young, 147)
It's botanical family is Lamiaceae and it's plant origin is North America, Mediterranean area, and Great Britain.
The extraction method used is steam distilled from leaves and stems.  It's ORAC value is 37,300 µTE/100g.
The historical data on Peppermint essential oil is: "Peppermint is one of the oldest and most highly regarded herbs for soothing digestion.  Jean Valnet, MD, studied peppermint's effect on the liver and respiratory systems.  Alan Hirsch, MD, studied peppermint's ability to directly affect the brain's satiety center (the ventromecdical nucleus of the hypothalamus), which triggers a sensation of fullness after meals.  A highly regarded digestive stimulant." (Young, 147)
Peppermint essential oil's uses are:
rheumatism/arthritis
respiratory infections (pneumonia, tubeerculosis, ect.)
obesity
viral infections (herpes simplex, herpes zoster, cold sores, and human papilloma virus, etc.)
fungal infections/Candida
digestive problems
headaches
nausea
skin conditions (itchy skin, vericose venin, eczema, psoriasis, dermatitus), scoliosis/lumbargo/back problems
Peppermint essential oil can be found in the following Young Living's essential oil blends:
PanAway
Aroma Ease
Aroma Siez
Relive It
Deep Relief Roll-On
Allerzyme
AromaGuard Mountain Mint Deodorant,
BLM,
Breathe Again Roll-On
Chocolessence
Cinnamint Lip Balm
Clarity
ComforTone
CortiStop Women's
DiGize
Digest & Clense
Einkorn Nuggets
Essentialzyme
Essentialzymes-4
KidScents Mighytzyme
M-Grain
Ortho Ease Massage Oil
Ortho Sport
PanAway
Progressive Plus
Prostate Health
Raven
Relieve It
Slique Gum
Thieves Aroma Bright Toothpaste
Thieves Dental Floss
Thieves Dentromone Pluss Toothpaste
Thieves Dentradome Ultra Toothpaste
Thieves Fresh Essence Plus Mouthwash
Thieves Lozenges
Thieves Waterless Hand Purifier
Transformation
The uses of Peppermint essential oil are:
Dilute a few drops of Peppermint essential oil with a carrier oil.  Massage it in for a refreshing massage after a tough workout.
Diffuse
Inhale directly
Take as a dietary supplement
Caution: "Avoid contact with eyes, mucus membranes, sensitive skin, or fresh wounds or burns.  Do not apply on infants younger than 18 months of age." (Young, 147)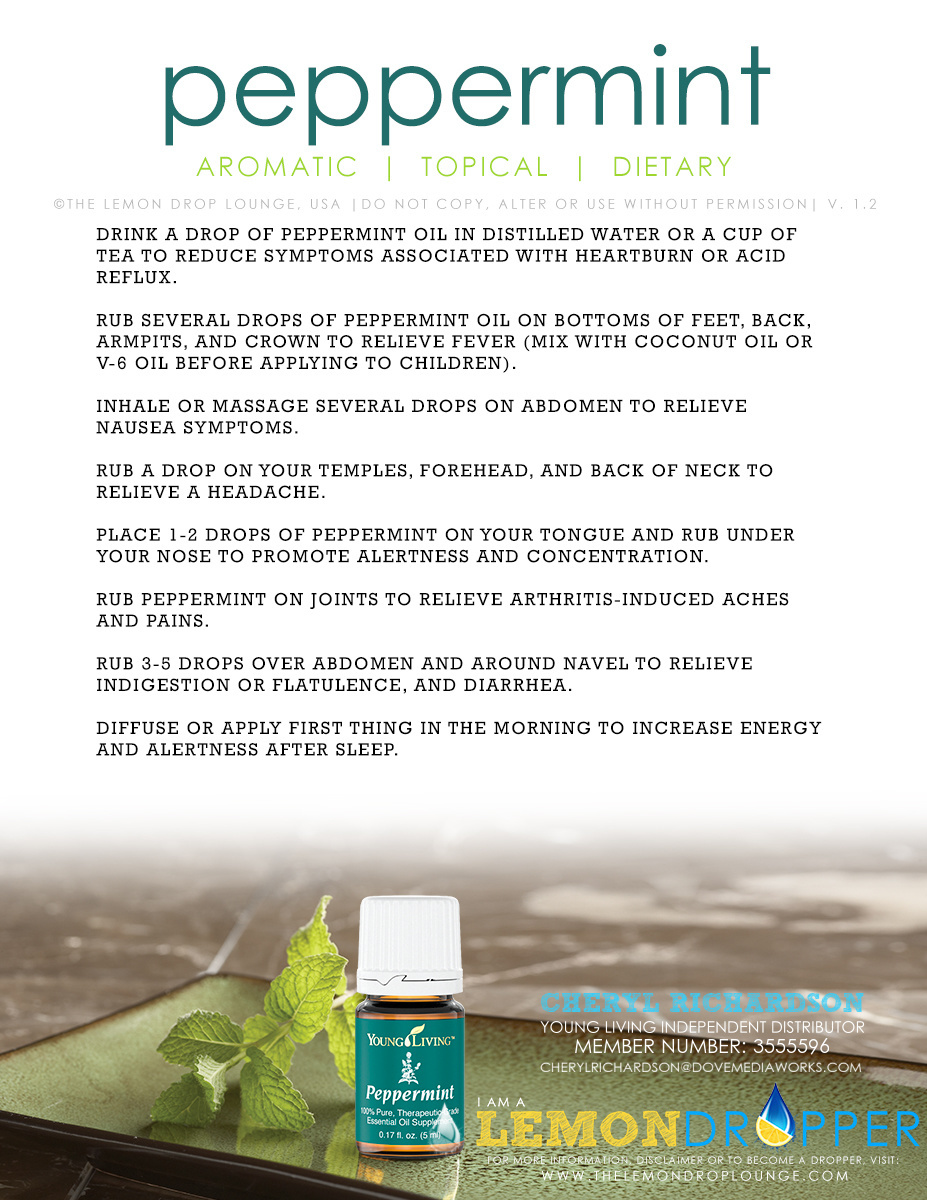 Works Cited: Young, Gary. Essential Oils Desk Reference.6th ed. Lehi: Life Science Publishing, 2014. Print.
Disclaimer:  I am an Independent Distributor of Young Living and the information on this website is not intended to diagnose, prescribe, treat or cure any disease, illness, or condition, and should not be used as a substitute for seeking professional medical care and advice. These statements have not been evaluated by the Food and Drug Administration. This information is intended for educational purposes only. The testimonials, research, and information within applies only to Young Living Essential Oils and I make no representations as to accuracy, completeness, timeliness, suitability, or validity of any information presented by individual authors and/or users on our pages and will not be liable for any errors, omissions, or delays in this information or any losses, injuries, or damages arising from its display or use. If you have a medical condition, a disease, or are using a prescription medication, it s recommended that you consult with a health professional (preferably one who has experience with essential oils), the prescribing physician, and a pharmacist about potential interactions between your medication(s) and the essential oil(s). The information I provide on this website is in no way meant to diagnose, treat, cure or prevent any disease, it is just meant to discuss what I have chosen to do or have done in my life and my family's lives to take control of our personal health.  Please contact me with any questions you may have!
PAID ENDORSEMENT DISCLOSURE: To be able to continue supporting the blogging activities on this website, we may receive monetary compensation or other types of remuneration for the endorsements or recommendations to any products or services from this site.  We are an affiliate of Amazon.com and links we provide out to Amazon.com are affiliate links and we will receive a very small commission on anything your purchase within 24 hours of clicking on one of our links.  We also use Google Adsense and will receive a very small commission just for you clicking on one of their ads (you do not have to purchase anything from the Google Ad, just click on it 🙂 )   Thanks for all your support.